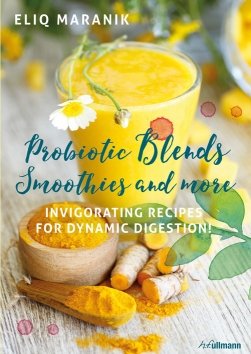 Probiotic blends, smoothies and more
Invigorating recipes for dynamic digestion!
Price: 12,95 €
10,99 £
14,99 $
ISBN:
978-3-8480-1110-0 (Publication date: July 2017)
Probiotics boost our immune system and greatly contribute to detoxing our gut, while recent medicine research has proved the significant effect of the gut flora on our overall health and well-being.
The interest of a wide audience regarding the influence of probiotics on our digestion and well-being has spread thanks to popular scientific publications such as Giulia Enders' "Gut: The Inside Story of Our Body's Most Underrated Organ". Many foods that can be used in smoothies contain probiotics, such as miso, yogurt, or fermented milk, to name but a few.
Super healthy smoothies with probiotic bacteria and superfoods will help improve your gut flora. The latest health-food trend.